Achieved from the 4later channel 4 website (http://www.channel4.com/4later/) from 2001 regarding the future of 4later on channel 4.

CAUTION: CLIPS MAY CONTAIN NUDITY AND/OR STRONG LANGUAGE AND ARE FOR MATURE AUDIENCES ONLY. Click the pics or Titles to view clips - you'll need Real Player G2 version 7.0 or 8.0.
What you say? Somebody set 4later up the bomb?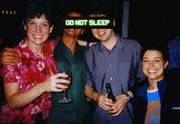 Yes, as you've probably noticed, no sooner has 4later started to struggle back onto your screens than it's time for us to take another of our "indefinite breaks".
The bad news is that this means you'll be seeing less of the classic 4later introductory items (or "idents") - those bits where you got to see smoking babies, Ginger's slot and er... talking penises on bits of string. How will television survive?
The good news is that many of your favourite 4later programmes will still be showing - just without the internationally famed and respected 4later stamp of authority on them. Off the top of our heads:
Bits has transformed into Thumb Bandits and has its own new website and everything. Check it out.
(Please note these sites are not part of the main Channel4 site, so we cannot be held responsible for anything terrible which may happen to you there...)
And there'll also be a few old favourites like The Other Side showing when you least expect them as well.
Also staggering from the wreckage is the ever-popular 4later forum, where you can relive 4later's past and find out about its future (caution: strong language and adult content - you have been warned). Plus all the clips that you sent in for our pioneering webcam community The Collective - see elsewhere on this page, similar warnings apply.
So, sorry we're not able to welcome you back to the site with a brand spanking new line-up - but we will return. One day.
Thanks for all the lovin' folks - and it's probably time to say:
GET SOME SLEEP.
- Ziad and Dave, December 2001